A-LIST CELEBRITY HAIR COLOURIST, JACK HOWARD, BRINGS HIS EXPERTISE TO A MASTER CLASS AT A COTSWOLD SALON. ♥
The team at Love Hair in Broadway have an enviable reputation for creating beautiful, stylish, healthy hair with their range of ethically sourced, organic hair products and colours. They are now on a mission to bring celebrity A-list quality Balayage and Ombre techniques to The Cotswolds. These on-trend

hair highlighting techniques use a skilled, freehand technique with the principle that 'less is more' and are designed to create a soft natural look that can be manipulated to produce stunning, trend-setting hair colour or the most beautiful, sun-kissed, natural looking hair.
Already experts in these techniques, Deborah and Kate, founders of Love Hair, had previously attended a Balayage education day with the world renowned UK colour spokesperson and A list celebrity stylist, Jack Howard, who is widely credited with bringing Balayage to the UK. Jack has worked his colour magic on

the likes of Poppy Delevingne, Suki Waterhouse, Donna Air, Gillian Anderson, Clara Paget, Ola Rudnicka Vanessa Kirby, Bonnie Wright, Hofit Golan, Ana Beatriz Barros and Daniela Braga to name a few and his work comes highly recommended by the likes of magazines such as Vogue, Elle, Marie Claire, Glamour, Harpers Bazaar, ES magazine and Tatler.
After Deborah and Kate had perfected their Balayage technique in the salon they decided to take their skills to the next level by inviting Jack into the salon to run an exclusive, private Balayage master class for the entire Love Hair team. Working with live models, the team created Balayage styles that are timeless, bespoke and on trend and are now looking forward to bringing this expertise to create beautiful hair for their customers in the salon.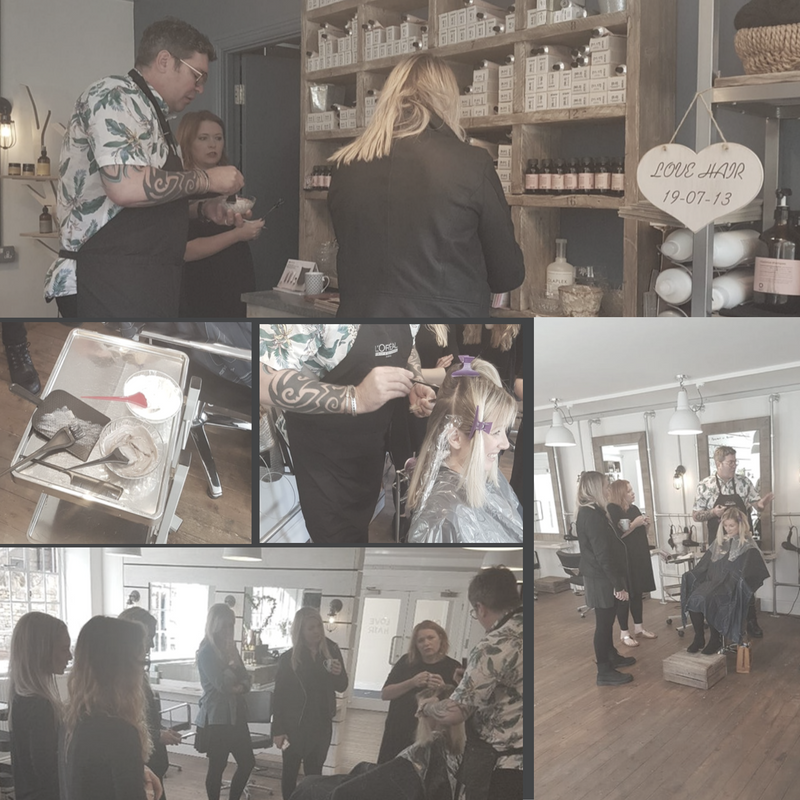 "

Love Hair had already been on a Balayage course with me in London over 2 years ago and so the team were already very confident in the technique. When they asked me to come to their beautiful salon a few weeks ago it was to see how they were getting on and to take it to the next level. We did a whole day of live models and corrective work transitioning foils to Balayage root stretches, classic and creative Balayage. It was a busy but fun day and I loved working with them

."